English for Everyone: A complete, self-study English-language course
English for Everyone is a comprehensive course for learners of English as a foreign language (adults and children), that can be used both in the classroom and for self study. It includes a general English course, a business English course, and grammar, vocabulary and English usage books. Innovative visual learning methods combined with listening, speaking, reading and writing exercises make the English language easy to understand and learn.
English for Everyone is a smart, simple new way to teach yourself the English language. This highly visual course uses graphics and pictures instead of wordy explanations, making vocab and grammar easy to remember. And with extensive supporting audio, and innovative exercises covering all the core language skills, learning English has never been easier.
English for Everyone is a series of guides and practice books that supports English learning for adults from a beginner level, to intermediate, and advanced practical English. Offering an easy-to-follow format that offers guidance for both teaching English as a foreign language, and a self-study approach with resources available to improve English speaking, reading, and writing.
English for Everyone: English Grammar Guide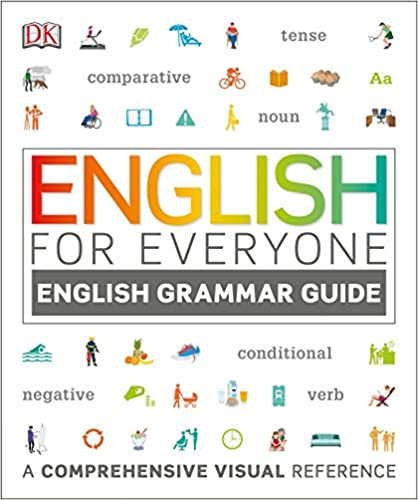 A one-stop grammar reference combining language teaching content from course book Levels 1–4 with new and revised content.
English for Everyone: English Grammar Guide Practice Book
This practice book supports the learning from the English Grammar Guide, with more than 3,000 questions that test understanding of English grammar.
English for Everyone: English Idioms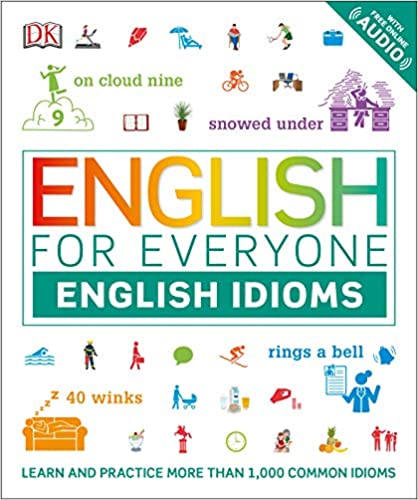 A fun and engaging visual guide to the most common and useful English idioms and phrases, with accompanying practice exercises.
English for Everyone: English Vocabulary Builder
A unique combination of illustrated reference and practical workbook that makes vocabulary easier than ever to learn and remember.
English for Everyone: English Teacher's Guide
This guide will help busy classroom teachers or one-on-one tutors get the most out of using English for Everyone with their students.
English for Everyone: Phrasal Verbs
Phrasal verbs (two- or three-part verbs such as "put off", "put on", "put up with") are incredibly useful but notoriously difficult to learn. English Phrasal Verbs uses the same combination of visual teaching and crystal-clear definitions as the rest of the English for Everyone series to make one of the most difficult aspects of learning English much easier.
USING ENGLISH FOR EVERYONE AS YOUR MAIN COURSE BOOK
The English for Everyone course and practice books are broken down into short units. Each unit starts with a summary of the new language, vocabulary, and key communication skills that will be covered, so you can set out the learning objectives to your class right from the start
Units begin with teaching boxes that explain how to use new language and form key grammatical constructions. English for Everyone's step-by-step, highly visual teaching method makes it very easy for you to explain even complex English grammar
Grammar teaching boxes begin with a sample sentence that showcases new grammar in a natural, real-life, everyday context.
Colour-coding and annotations make it easy for you to point out and explain new constructions to students.
Clear and simple illustrations help your students understand and remember new grammar forms. Further example sentences give your students more examples of contexts in which the grammar would be used in everyday English, and show them how the grammar works in different forms such as contractions.
Visual guides, such as jigsaws, break constructions down into their simplest parts, so you can clearly explain to your students how to form constructions correctly.
Exercises
Each grammar-teaching module is followed by a number of short, focused exercises to reinforce the skills just learned
GET ALL THE BOOKS: HERE