In this lesson, we will find out how to use linking words in speaking to improve your fluency and coherence. Linking words can be used to:
link the flow of ideas in your writing
guide the reader (examiner) towards the next stage of your argument
express different views in your speaking task
---
Read more: 
---
For speaking you need some simple linking words to help the examiner follow your ideas. These linking words will help you to express your ideas and use them in different situations.
You can use some useful words and phrases below to write a great essay to get a high score in your exam. So take a look and start to learn all of them.
| | |
| --- | --- |
| In my opinion, | According to me, |
| In my view, | To me, |
| From my point of view, | I think |
| It seems to me that | I believe |
| From my perspective | To my way of thinking |
| It appears that | I suppose |
| I realize | I understand |
| I imagine | I feel |
| | |
| --- | --- |
| For example, | For instance, |
| such as | In other words, |
| as | like |
| that is | namely |
| To illustrate | To paraphrase |
| | |
| --- | --- |
| Similar to | As…as |
| in common | also |
| Either…or | In the same way, |
| Neither…nor | At the same time |
| Just as | resemble |
| | |
| --- | --- |
| However, | But |
| On the contrary, | On the other hand, |
| Differ from | Nevertheless |
| Although | Though |
| Otherwise | Instead |
| Alternatively, | Even though |
| | |
| --- | --- |
| Generally, | Generally speaking, |
| Overall, | On the whole, |
| In general, | By and large, |
| It seems to me that | I believe |
| All in all, | Basically, |
| Essentially, | As a rule, |
| All things considered | For the most part |
| | |
| --- | --- |
| Certainly, | Undoubtedly, |
| Doubtless, | No doubt, |
| Definitely, | Of course, |
 Expressing Partial Agreement
| | |
| --- | --- |
| More or less, | To some extent, |
| Up to a point, | Almost, |
| In a way, | So to speak, |
| | |
| --- | --- |
| Due to | Because |
| Because of | Owing to |
| | |
| --- | --- |
| Therefore, | As a result, |
| Consequently, | For this reason, |
| Thus, | So, |
| thereby | Eventually, |
| Hence, | The reason why |
| | |
| --- | --- |
| First, | Last |
| Second, | Lastly, |
| Third, | Then, |
| Firstly, | First of all, |
| Secondly, | Before |
| Thirdly, | After |
| During | While |
| To begin with | At the same time |
| Simultaneously | After this / that |
| Since | Meanwhile |
| Afterward | Following this |
| When | As soon as |
| | |
| --- | --- |
| Furthermore | In addition |
| Also | And |
| Moreover | Similarly |
| Likewise | As well as |
| Besides | Too |
| Even | What's more |
| | |
| --- | --- |
| If | Whether |
| In case | Unless |
| Provided that | So that |
| | |
| --- | --- |
| To summarize | In conclusion |
| Lastly, | Finally, |
| To conclude with, | In short, |
Linking Words for Speaking (Pdf)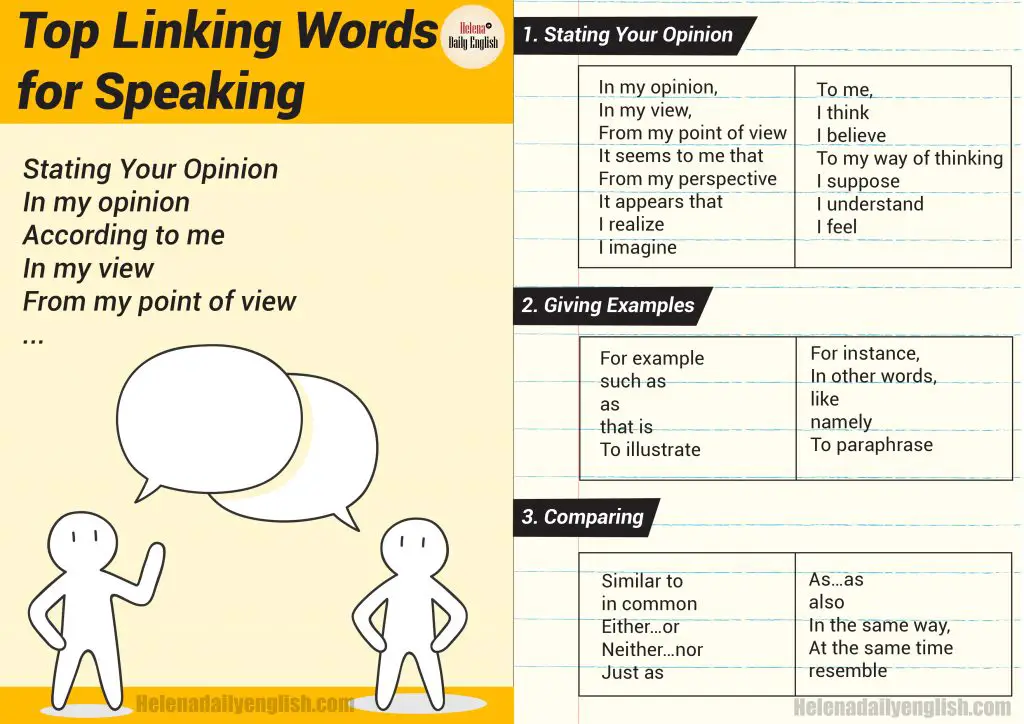 Download: Like our Fanpage to unlock 
Illustrated American Idioms Lesson 1 (Health problems)