How to practice English speaking on your own and at Home? | English Speaking practice
I'm sure that you often look up these keywords on Google search "English speaking practice", "How to practice English speaking", "English Speaking Tips", or "how to improve speaking skill"…to find out a suitable method for your own. Today, I'm very happy to share with you 5 simple ways to practice speaking at home.  
Foreign language learners will all know that Speaking is inherently a difficult skill to improve without practicing with other people. It would be great if we could practice with a native speaker, an English native speaker, or at least someone who can speak English better than us. However, not all of us can travel to the UK, or have enough time and money to take English courses at language centers. So let me share with you 5 English speaking tips to practice at home.
First, you need to remember that the "speaking" I am talking about here is not just "speak". I want to mention complete communication skills including Reacting, Body language, Pronunciation, Turn-taking, Using formal or informal language, Articulation, and linking sounds. There's a lot to practice, isn't it? Don't worry, the methods below are arranged in increasing difficulty so you can practice all the elements above.
Shadowing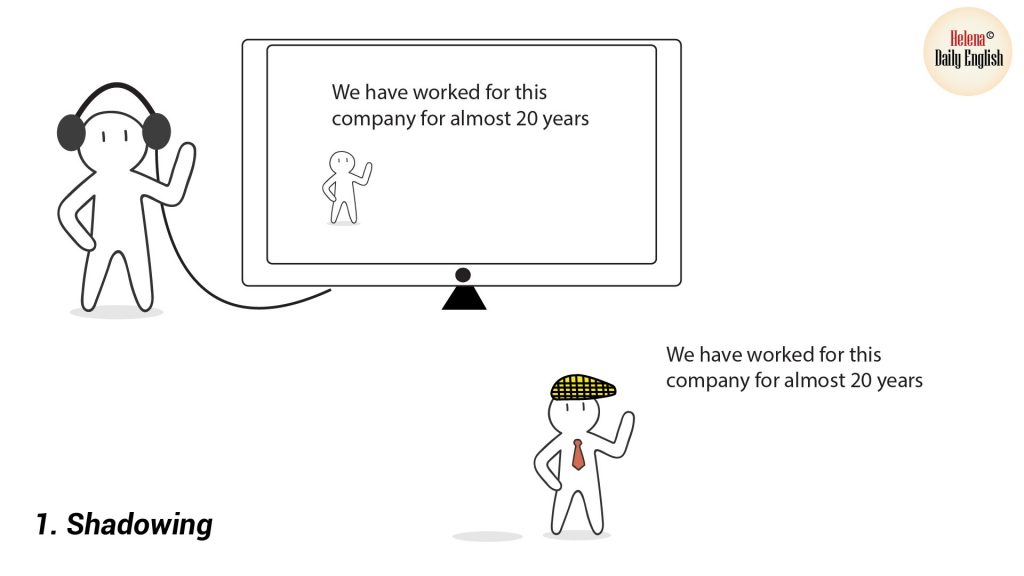 The "Shadowing" Method has been so common and popular among language learners. This method is the advanced level of listening and repeating. You can use materials such as songs, short videos, or movies that you like. Then listen to the music or movie a few times and repeat what you hear. It's not just the usual repetition, but you should always copy the way up and down the tone of the voice, the expression in that character's voice, and the way the speaker uses connected speech. For example:
Listen: (0:00-0.15) https://youtu.be/dr1-fPkTxZM
And repeat: We live in a time-pressed culture. There is never enough time, and we see it, we feel it around us every day.
Try to copy as similar to the original speech as possible.
Such practice will help you a lot in learning natural communication phrases and especially in getting used to the rhythm of English. The practice of shadowing will help you get a more natural speaking. You can choose the short video from the movie
If you don't want to repeat as similar as what you hear, try to this method " IMITATION". Have you ever heard about it?
For example, you will hear: I'm 18 years old and I still live with my parents. And you will repeat: She's  18 years old and she still lives with her parents
For more detail:  Easy tips for improving your English speaking skill
Review your own speech
An important skill of a self-learner is self-assessment and learning from one's own experience. Therefore, in exercise 2, you should record yourself, then listen to it a few times to be able to self-assess your pronunciation.
For example, after the shadowing exercise, listen back to your practice and compare it with the original video. You will see your mistakes and improve a lot. For me, I usually use audiobooks. I often choose a book that I like, read each page aloud, and record it. Then I listened to the recording and compared it with the audio of the book itself. Trust me, you will be surprised at your progress.
Describe a picture
In exercise three, describe a picture, you will begin to develop your own ideas instead of relying on pre-existing scripts. Specifically, choose a picture and try to describe it in 3 to 5 5 sentences. For example with the picture below: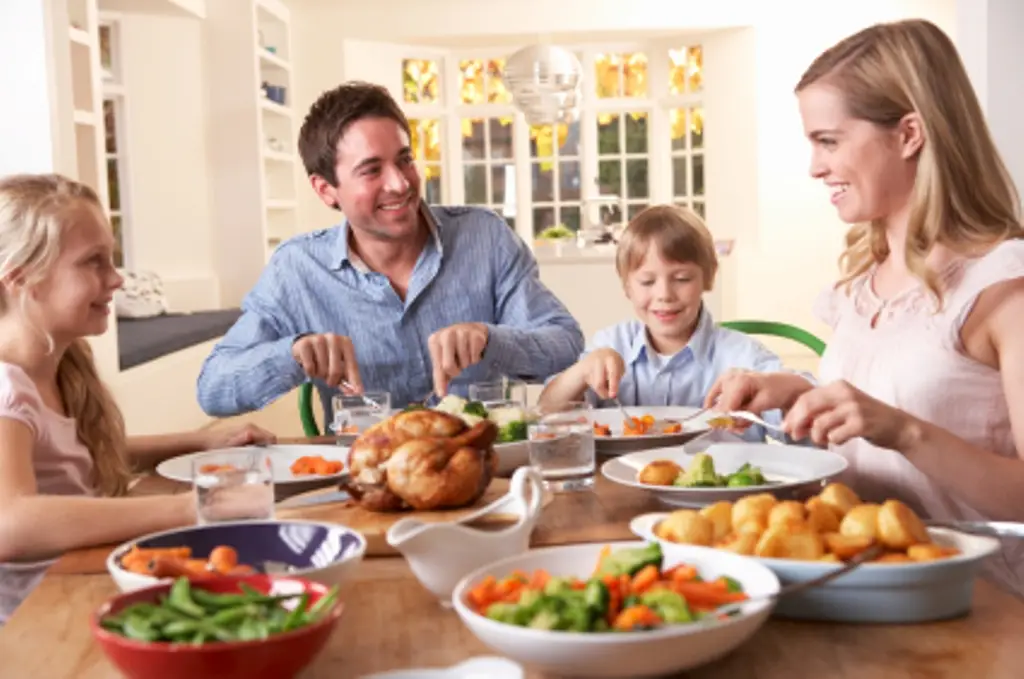 "There is a family of 4 dining together in this picture. The atmosphere of the meal is happy, everyone is smiling and talking to each other. There are many dishes on the table like chicken, french fries, and salad."
You can even describe the small details in the picture. Regardless of how you describe it, the most important point of this exercise is that you try to keep yourself fluent and coherent when describing it. Exercise number 3  requires you to be able to articulate from 3 to 7 consecutive sentences in a coherent way. This is also the foundation to help you develop longer conversations in the future.
Find out: 3 benefits of learning English with pictures/ illustrations
Voiceover for a movie scene.
In this exercise 4, try dubbing a movie scene. Everyone will have their favorite movies or TV shows. So why don't you use them for your English learning? You can watch a clip from your favorite movie 3 to 4 times, then try to summarize what it is about. Explain what you are seeing as coherently as possible. Then you mute the sound of that video and describe what you see when the video is playing. Here is an example
"It was a lovely day in the park. Mr. Tom and his wife Ms. May were sitting on a bench. suddenly, she remembered something and went back home. Mr. Tom was reading a paper. He was annoyed by the boy skateboarding next to him."
This exercise will help you improve your communication reflexes. More importantly, this exercise also helps you practice using the past tense to tell a story or situation that often occurs in everyday communication. When dubbing the video, try to express the character's emotions through your voice. Regular practice with this method will help you control your voice better and better.
Besides, you can refer to these articles where you will find a lot of tips on how to learn English with movie
Develop your situation
This exercise requires your greatest creativity, but it is also the exercise that gives you the most comprehensive progress. First, you'll need to choose a setting, for example at a restaurant, an airport, a hotel reservation, or a job interview. Then play two roles in a conversation. Remember to record it then listen back to find out if you're using the right language, formal or informal.
Do you have correct and clear pronunciation? Whether your tone of voice is up or down is appropriate for each situation. I have mentioned recording your practice many times in this video. I also know that hearing my own voice again isn't always pleasant. However, this inevitable step will make your learning more effective.
One advantage of this exercise is that you can create thousands of different scenarios for yourself, so your practice will never be boring. When I practice with this method, I used a mirror to witness what look like when I am talking or film myself to observe my body language while speaking. Practicing this method, I used a mirror to witness what looks like when talking or filmed myself to observe my body language while speaking.
For example, I choose the situation of applying for a job to practice. I will go to google to search "The job interview question", I can see thousands of questions I can use to practice
Could you tell me about yourself and describe your background in brief?
I was up in a small town with few options. Because good schools were scarce, I began using online learning to keep up with the best. That's where I learned to code, and it's where I got my computer programming certification. After landing my first job as a front-end developer, I continued to devote time to learning both front- and back-end languages, tools, and frameworks.
Here are my suggestions for those who want to practice speaking English at home. These are all methods that I, along with many others, have used.
You can all refer to and modify them to become your own and most effective method for you. I believe that if you persist, you can improve your speaking skills within a month. Let me know your progress through the comments.
===============